One family in Ireland has done an amazing job and raised over 3000 Euros, through their fundraising efforts. We were recently contacted by CdLS mum, Melissa Coleman from County Cork, with a fantastic recipe for fundraising. Melissa has a daughter with CdLS, Tabitha, who turned 5 in February.

She has a friend, Natalie Keane, who runs a craft Chocolate business with her sister. The company is called Bean & Goose and they make a range of chocolate bars with some incredible flavours. Natalie knew of Tabitha and her condition and kindly offered to donate around 50 large bars of her chocolate to raise money for the Foundation. She wanted nothing for her costs, so all profit would go to us.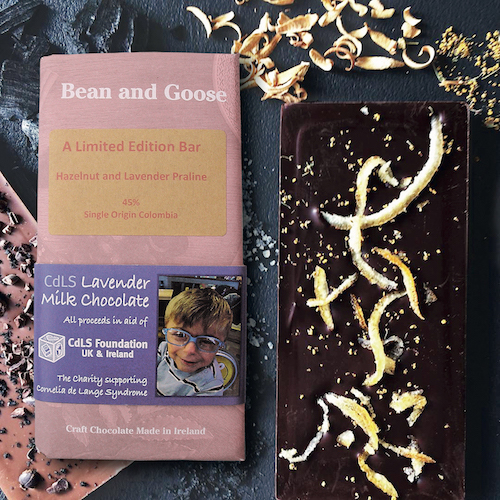 When Melissa told us, she asked if we could help with creating an awareness raising band around the hand-packaged bars. Of course, we were delighted to help. One of the flavourings of the donated bars was lavender, in honour of our CdLS colours.

The bars could only be sold in Ireland, so no shipping costs were incurred but they sold out very, very quickly, making nearly €300 for us. They also were a very effective way of raising awareness of CdLS, with some informative text about the syndrome and a picture.

As if that wasn't enough, Tabitha's dad, Liam Coleman managed to have the Foundation nominated as one of the charities supported by the company he works for, Eli Lily, for their Christmas charity day. Based in Kinsale, County Cork, Eli Lily held their fundrasing day in December. They raised a massive €3,200 for CdLS.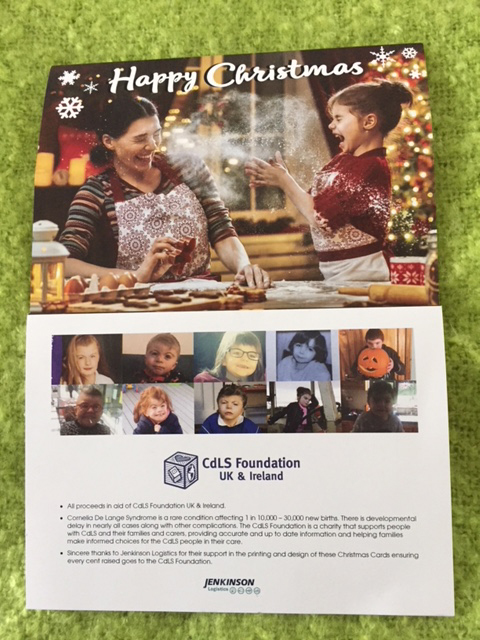 Irish Regional Volunteer, Eleanor O'Kelly-Lynch has also had a seasonal scheme to raise funds and awareness. She put together some CdLS-branded Christmas Cards for Irish families. Eleanor says; "The CdLS Christmas card idea was a great success and we will definitely make them an annual fundraising event, judging by the interest we got. We got 1000 cards printed and could have easily sold another 500. Everyone got behind the idea and families ordered them in multiple packs of ten. Thanks to Jenkinson Logistics for paying full cost on design and print which meant every cent raised went to CdLS Foundation - a real bonus giving us a total of €1080."

Our huge thanks go to Melissa, Liam and Eleanor. What a sweet way to raise money and awareness for CdLS!