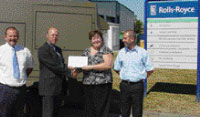 Rolls-Royce Distributed Generation Systems made a donation of £100 to the Foundation. The company is located in Cheshire and produces high specification generators.
One of its range provides mobile power for the MoD, under a Public Financed Initiative (PFI).
As part of this arrangement it sub-contracts the fleet management out to ABRO whose fleet manager is Richard Simmonds, the CdLS Foundation's treasurer.
Richard is pictured handing over a Certificate of Appreciation to the Rolls-Royce social group, represented by Michelle Oakes, Trevor Palmer and Neil Telford.
The group were most appreciative of the Certificate, and said they were a little humbled, understanding the individual efforts put into the charity by its members.