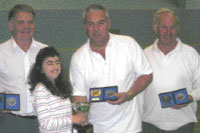 Kentish Short Mat bowlers have been boosting the CdLS funds again as organisers Pauline and Ray grandparents of Lucy Dickens found themselves hosting a record turnout.
This year's competition held in Gillingham, attracted a record entry of 50 teams – 150 bowlers from all over the county. "There were several clubs fielding teams for the first time and they were keen to know more about the condition and the work of the Foundation," said Lucy's mum Carole.
As well as record entries, the event raised a record amount with a cheque for £1,327 for the Foundation. "It's hard to believe the support and enthusiasm for this event after eight years. It is great to see the continued generosity of those who attend," Carole said.
Lucy – now a "horrible teenager" according to grandad Ray – once again helped out by selling raffle tickets and enjoyed presenting the prizes.