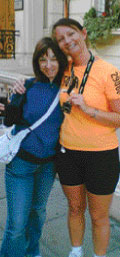 Sally Clark of South London raised more than £1,000 for the CdLS Foundation by competing the Nike North Vs South "Run London" Race on October 8.
Sally ran for South London – the winning team – and completed the race in one hour and 4 minutes.
"The CdLS charity is close to my heart, simply because of a girl who came into my life about four years ago now. Little miss Joanna Pallaris has made such an impression on me that she makes me want to continue to find out more about her condition," Sally says.
Because Sally made use of the Foundation's access to justgiving.com, her sponsors were also able to pass on their tax savings which meant the total donated to the Foundation was almost £1,200.