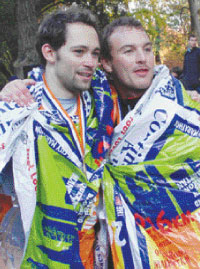 Most people going to New York complain about aching feet – but two CdLS supporters had better excuse than most.
Thomas Peaford – brother of Victoria – and his former school friend Jonathan Ewen took up an unusual challenge and ended up running the New York marathon.
Thomas said: "We had a bit to drink and someone joked about our fitness. We were challenged to get fit in those 100 days and run the New York marathon in less than five hours."
The lads got to work and raised more than £2,000 for CdLS and a further £1,500 for the Muscular Dystrophy charity that organised their places in the famous run.
"I lost more than two stone in weight during the training. It was a tough run – much harder than the London marathon – and it was very painful for a few days afterwards, but it was for a good cause," Thomas said.
Thomas clocked 4 hours 23 and Jonathan 4 hours 27.
Tom spent 20 minutes in a medical centre during the race but says he was inspired to continue when he was overtaken by a runner dressed as a doughnut.
Both Tom and Jonathan made use of the Foundation's justgiving.com site and many donors were able to give their tax to the Foundation too.