Music – it's a language for our children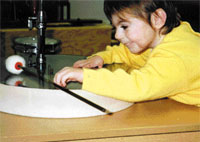 Even before birth, music is part of our lives. Research shows that unborn children can hear and recognise musical sounds. This response can remain intact throughout adult life, even in people suffering dementia causing diseases such as Alzheimer's, and the effects of rhythm can even be felt through the skeleton of the hearing impaired. Moreover, the therapeutic qualities of music are well documented – most cultures use music to excite or soothe – and increasingly to learn or communicate.
More recently, we have discovered the benefits of using music as therapy, both in informal personal ways and through guided sessions with professionals.
Music as therapy can help overcome a wide range of psychological and emotional problems – and is ideally suited to CdLS children, as anecdotal evidence from parents, caregivers and therapists suggests.
There are now many official centres providing music therapy for a wide range of individuals, from individuals with special needs such as CdLS children, to the elderly, the sick, and the bereaved.
Music therapy is also increasingly sought by people who may not have specific difficulties, but would like insights into themselves and new ways of relating to others.
One such centre is the Nordoff-Robbins Centre based in north London which has been providing music therapy since 1974.
Based on the pioneering work of Dr Paul Nordoff and Dr Clive Robbins, who came together to try to reach vulnerable children, music therapists use music and psychological insights to help children and adults with a wide range of needs.
"A whole range of people can benefit from music therapy, and no musical skill is needed at all," says Helen Tyler, assistant director of the Nordoff-Robbins Music Therapy centre.
The centre provides music therapy for over 200 children, adolescents and adults each week, and employs over 20 qualified music therapists both full time and part time.
Funding by the centre also supports the secondment of therapists to service providers across London, including children's hospitals, residential homes and other specialist units.
The profession is certainly taking off – and not just in London. Recent legislation states that music therapists now have to be state registered, and there are now over registered 400 therapists practising in the UK.
Cath Roberts is a music therapist working for the East Cheshire NHS. She also works with two CdLS children.
"Typical sessions are held at a regular time and place, but the time within the session can be unstructured," she explains. "There are a wide range of musical instruments available and I encourage the child to use instruments wherever they are able."
Cath, a trained clarinettist, plays along to support the children. "Its similar to verbal therapy," Cath says. "You try and reflect things back."
The benefits from music therapy are varied, and depend on the clients using it. For CdLS children, being able to express themselves is key.
"Lots of CdLS children have no or limited language skills, and music becomes a very important element that releases frustration and tension," says Cath.
Self injurious behaviour can also be a problem with CdLS children, and Cath explains that this could be diminished with music therapy, through the channelling of aggression into music.
The Association of Professional Music Therapists, an organisation founded in 1976, provide an official definition of music therapy, which includes the words "shared music experiences leading to the pursuit of therapeutic goals."
Cath agrees that sharing is vital. "The two keywords are communication and relationship," she says, with a mutual relationship between client and therapists building up trust and communication over the sessions.
Music is also a social activity involving sharing, listening and of course, communication. These skills may be developed in the therapy, through the relationship with the therapist. Benefits from this can include greater sociability, developing in confidence, and a greater awareness of yourself in relation to others.
Parents, caregivers and teachers have certainly found this to be the case, and anecdotal evidence and postings on CdLS support group websites support music therapy wholeheartedly.
"I simply love music therapy – I sing, play with the instruments and look at my teacher Charlotte a lot, (and I am usually not very keen on having eye contact!)." says one posting written by parents on behalf of their two year old daughter Jeanette.
Catherine Wantling, mother of four year old CdLS child Hannah, agrees.
"Before Hannah started music therapy she had no verbal understanding, and had only just gathered situational understanding," Catherine explains.
"Music therapy was a real chance for her to express her feelings – when she started banging around on things we realised she had a huge personality."
Music therapy can also teach CdLS children valuable skills about how to communicate – skills that may be innate for most people have to be learnt by scratch by CdLS children.
"Hannah has also learnt turn taking skills, which are a pre-requisite for verbal speech, and also copying skills," she says.
Catherine and Hannah also play music at home, utilising maracas, a tambourine, a recorder, and a keyboard.
"We have two of everything, so copying skills can be learnt," explains Catherine.
"I would certainly recommend music therapy for CdLS children – it was like the world opened for Hannah when we started music therapy. Suddenly, this personality came out. When we give her music it's her language – in fact it's the only language she understands.
"Finding out what helps CdLS children enjoy and access the world, whether its cuddles and kisses or music is a huge achievement. They get the chance to communicate in a way they think other people might understand – its their language."
For further information contact:
The Association of Professional Music Therapists – 01458 834919
The British Association for Music Therapy – 020 8368 8879
The Nordoff Robbins Music Therapy centre – 020 7267 4496
Internet links
www.ampt.org – the website of the Association of Professional Music Therapists
www.bamt.org – the website of the British Association for Music Therapy
Reaching Out newsletter
January 2001