Programme announced for Belfast Weekend

Our Spring 2019 conference weekend will be at a hotel just outside Belfast. The conference day will be April 27th 2019. The venue is:
La Mon Hotel & Country Club
41 Gransha Road
Castlereagh
Belfast
BT23 5RF
T: 028 90 448 631
DDI: 028 90 449 508
W: www.lamon.co.uk
We have negotiated room rates as follows: Standard or Premier rooms, B&B, Single occupancy £92 per night, Double occuipancy £112 per night. All come with a Double and 1 single bed. Premier rooms can accommodate an additional bed or cot (subject to availability) but there are additional charges for 4-12 year old child - £10 per child, 13-16 year old - £20 per child. Additional adults (17 and over £50 each). Under 4s free of charge.
Book your rooms directly with the hotel. Please tell them when booking that you are with the CdLS conference to get these rates. We are trying to negotiate some family deals on food.
Please ensure you register for the conference with our office. There is a registration charge of £10 per Adult (over 16) towards the cost of the event - CdLS people no charge for registration! Payable through our MyDonate or Justgiving links, bank transfer or cheque. Please contact office for details and give a reference for the people you are paying for.
Trustees will be there from Friday afternoon 26th April to meet and greet. The programme for Saturday 27th will run as follows (subject to changes):
09.30 - Welcome and introduction - David Axtell & Charles Blockley (CdLS Foundation)
09.45 - Overview diagnosis, features, complications of CdLS - Dr David FitzPatrick (University of Edinburgh/Western General Hospital)
10.35 - Common GI Problems in CdLS - Dr Peter Gillett (Royal Hospital for Sick Children, Edinburgh)
11.25 - Coffee (Phew!)
11.45 - Overview of Behaviour in CdLS - Prof Chris Oliver (Cerebra Centre for Neurodevelopmental Disorders)
13.00 - AGM & Lunch (provided for all delegates)
14.30 - Social Cognition in CdLS - Dr Kat Ellis (University College London)
15.00 - Anxiety in CdLS - Laura Groves (Cerebra Centre for Neurodevelopmental Disorders)
15.30 - Anxiety Workshop - Moderated by Dr Jane Waite (Aston University)
There will be doctor consults with Drs David FitzPatrick, Peter Gillett, Jenny Sloneem (Clinical Psychology), Prof Chris Oliver and 2 behavioural research programmes (see separate story) as well as supervised playroom for the younger kids and CdLS kids.
In the evening there will be a buffet, quiz and raffle priced at £15 per Adult and £8.95 per child (under 4's free).
Hope to see lots of you there.
10th International Conference 2019 in Germany!!

The International Conferences, held every 2 years, are events not to be missed. 2019 is being jointly hosted by the CdLS groups from Germany and the Netherlands. It will take place in Bad Neuenahr, Germany, 1st - 3rd August 2019.
All information is on the CdLSWorld website. Links to all aspects of the extended weekend are at the top of the page. Registration is now open. Book now to ensure places at the CdLS event of the year!
World Federation of CdLS Support Groups 10th World Conference
An Evening with 3 International Rugby Stars

On May 4th 2019, there will be an evening with Rob Henderson and Friends, at Guildford Rugby Club. All three are top international rugby players - Rob Henderson (Ireland), Peter Winterbottom (England) and Craig Chalmers (Scotland). The evening will include a 3 course dinner, spot prizes and live music with all proceeds going to the CdLS Foundation UK & Ireland. Tickets available from the Club or from Vice Chairman Andy Conlon. Full details on the flyer.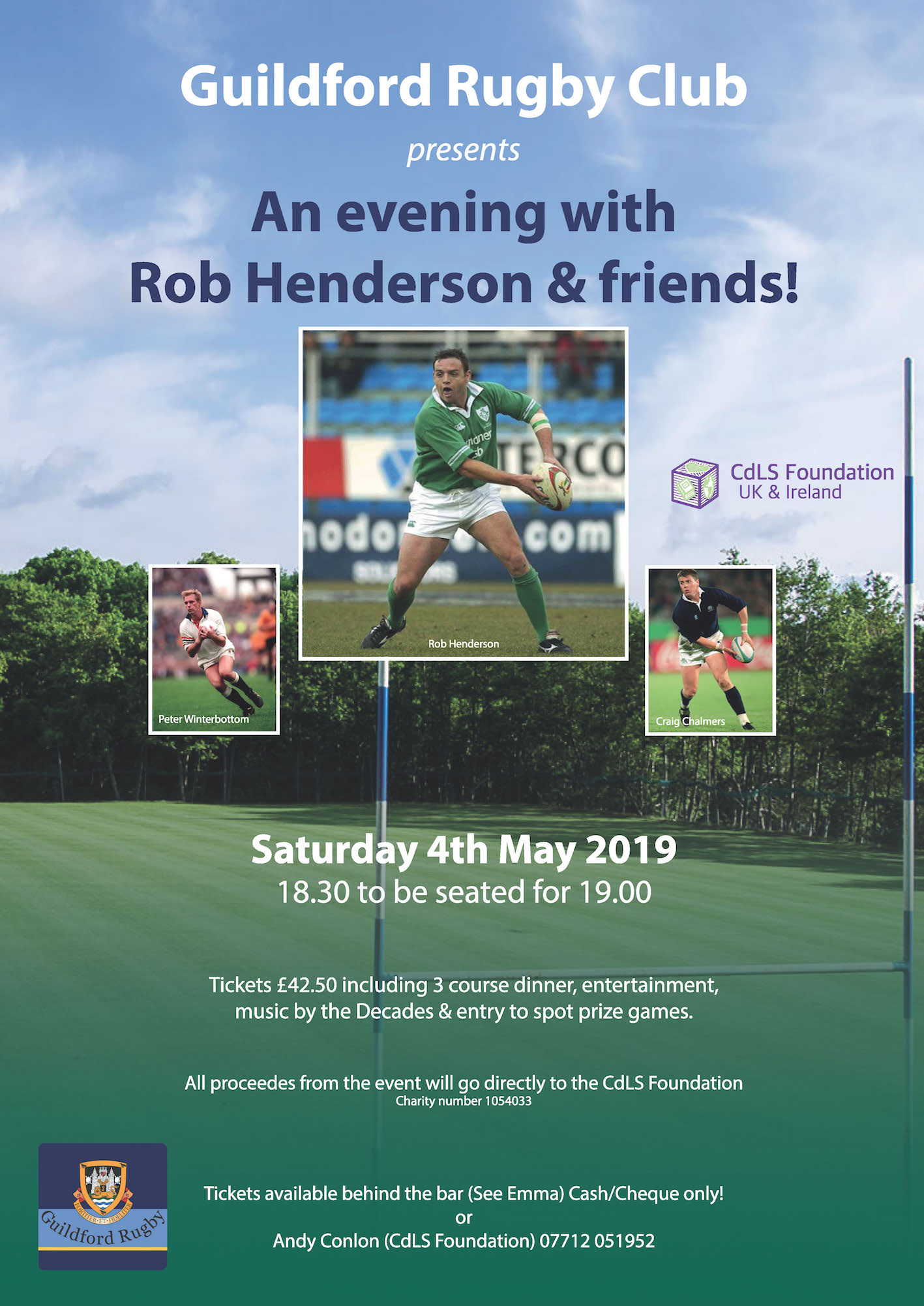 CdLS Foundation USA Webinars

The USA Foundation has kindly shared their exciting new events. The first 2 of a series of Webinars will be happening in a few weeks time.

The CdLS Foundation is proud to present the first annual webinar series featuring talks from medical and educational experts.
Register for our first two webinars today!
April 24, 2019
12:00 pm EST
Panelists: Sarah Raible, M.S., C.G.C. and Alena Egense, MGC, CGC
How to Address Challenging Behavior

May 9, 2019
1:00 pm EST
Panelist: Julia O'Connor, Ph.D
If you want to take part in the Webinars, please register by clicking the link for the ones you are interested in. Times shown are Eastern Standard Time (US) but click the link and it should show your local timezone.